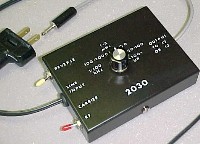 The 2030A locates amplitude modulated (AM) or wide-band frequency modulated (WBFM) radio frequency (RF) or carrier-current trans- mitters using the AC power or telephone line as their power source and/or transmission media.* Carrier-current devices are generally effective only on the secondary side of a power transformer but their signals can travel considerable distances on telephone lines.
The unit consists of an input cord/antenna, a LINE REVERSE switch, an RF-CARRIER switch and a BAND selector switch. An external amplifier or preamplifier, such as the 1059, monitors the detected and/or demodulated output of the 2030A. The input cord will withstand a maximum sustained DC or 50/60 Hz AC level of 500 volts. Telephone ring voltages are, of course, well below this limit. A carrier signal passes through the line cord to the LINE-REVERSE switch where it can be electrically reversed. The RF-CARRIER switch either connects one side of the line to chassis (case) common through an isolating capacitor (CARRIER position) or allows it to float (RF position).
OPERATION: Insert the 2030A output cable into an audio amplifier or preamplifier such as theSCD-5.
ALWAYS USE EXTREME CARE WHEN WORKING WITH AC POWER LINES!